Use rich Google Analytics features
Interpret Google Analytics reports and data
Create campaign tracking URLs
Course offered by highly certified and experienced instructors
The Google Analytics Masterclass course equips the delegates with the essential knowledge and skills required to configure and use one of the world's most powerful digital tools Google Analytics for reporting on their online website performance. The course provides a comprehensive knowledge of Google Analytics and fundamentals of Analytics Strategy. The course enables the delegates to use goals, events and eCommerce tracking to add context to reporting, improve conversion optimisation for a website, communicate effectively with all stakeholders and review the key metrics and reporting options in Google Analytics. The course is beneficial for delegates who want to use data to improve the performance of their websites. By the completion of the course, the delegates will build a solid foundation in Google Analytics and become master in utilising Google Analytics for data-driven marketing.
The following diagram shows the process of Google Analytics explaining the working of Google in brief.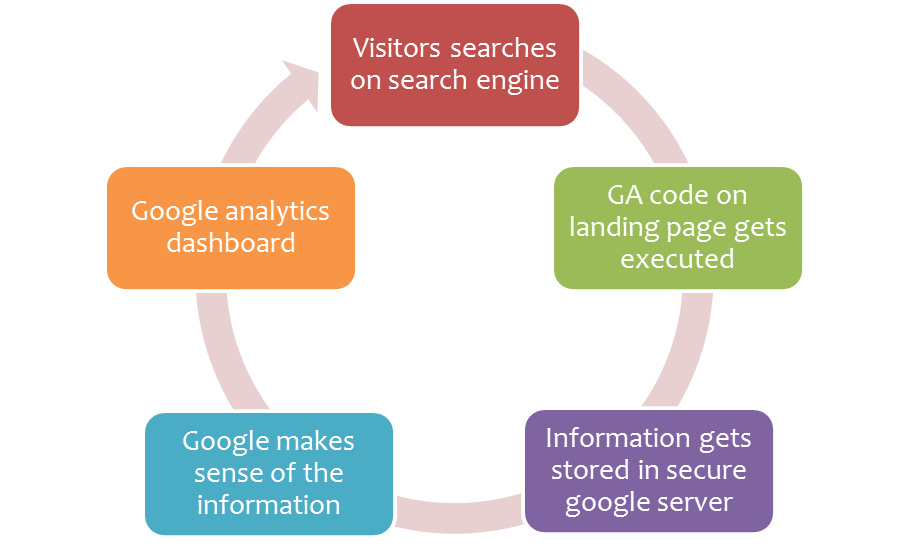 Who should take this course
The Google Analytics masterclass course is specifically intended for individuals who want to effectively utilise Google Analytics to improve their website's performance. These include:
Marketing Mangers and marketing executives who are tasked with the responsibility of developing campaigns for exhibitions, conferences and seminars
Communications professionals who want to learn about campaign ROI, web content performance and traffic sources
Designers and developers who are involved in the effective Google Analytics implementation at the coding and configuration level
Experienced Google Analytics users who want to explore the new features and user interface
What Will You Learn
Create dashboards, shortcuts and other advanced tactics
Gain thorough understanding of key website analytics terminology
Learn how to interpret Google analytics and key sections of each report